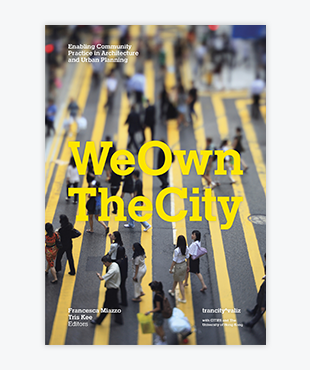 We Own The City: Enabling Community Practice in Architecture and Urban Planning promotes an era of community ownership of urban space including innovative case studies from five major cities: Amsterdam, Hong Kong, Moscow, New York City and Taipei. The book presents a collection of findings that provide insight into how top-down players are rethinking implementation processes in order to enable greater involvement from local communities and civil society.
The volume's people-driven practice recommendations target city governments, housing authorities, architects, town-planners and real estate developers in an attempt to provide new foundations for legislation or policy, moving inclusive urban development practices beyond experimental temporal phase and setting new standards for the long-term. 
All case studies for the New York City chapter in We Own The City are curated by Design Trust. We are selling limited copies of this book at a special price for a short time only. Grab yours soon, while we have them in stock! 
Chief Editors
Francesca Miazzo, CITIES Amsterdam
Tris Kee, Department of Architecture, The University of Hong Kong
Publishers
Trancity + Valiz
Details
Date: September 2014
Pages: 304
Format: Paperback