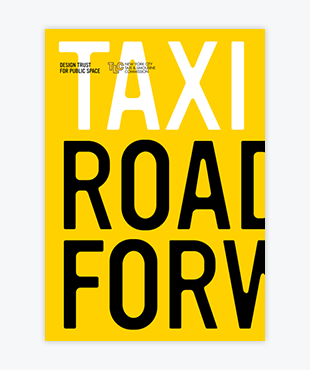 Taxi 07: Roads Forward provides the City of New York with the first long-term plan for improving the taxi system.  The result of a partnership with the New York City Taxi & Limousine Commission (TLC), Taxi 07: Roads Forward analyzes the current taxi system and outlines taxi-improvement strategies that are feasible and cost effective over a 10-year period.
The publication is divided into three sections: "Part I: Guiding Principles", "Part II: An Illustrated Guide to the Taxi System" and "Part III: Strategies for Improving the Taxi System." Part I outlines a set of guiding principles for taxi services; Part II illustrates how the current taxi system functions; and Part III outlines strategies for improving the usability, economic value, efficiency and sustainability of the system.
Read more about the Taxi 07 project. 
Authors
Rachel Abrams, Interactive Design Fellow
Sylvia Harris, Information Design Fellow
Deborah Marton, (former) Executive Director, Design Trust for Public Space
Chelsea Mauldin, (former) Deputy Director, Design Trust for Public Space
Adam Millard-Ball, Transportation Planning Fellow
Anisha Sawhney Mittal, Urban Design Fellow
Eric Rothman, Economic Policy Fellow
Rachel Weinberger, Urban Planning Fellow
Editors
Rachel Abrams, Interactive Design Fellow
Stephanie Elson, (former) Director of Programs, Design Trust for Public Space
Chelsea Mauldin, (former) Deputy Director, Design Trust for Public Space
Publishers
Design Trust for Public Space
New York City Taxi & Limousine Commission
Details
Date: December 2007
Size: 8.5" x 11" 
Pages: 160
Binding: Perfect
ISBN: 978-0-9777175-1-4
Design by: MGMT. design