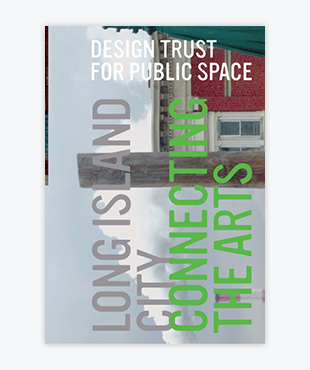 A must-read for anyone interested in the intersection of the creative and manufacturing sectors, this ground-breaking book defines Long Island City's hybrid character as a springboard for neighborhood development.
Richly illustrated and graphically inventive, Long Island City: Connecting the Arts outlines specific signage, information, transportation, and outreach strategies that can be used by arts organizations, businesses, and community members—in Long Island City and elsewhere—to promote and develop a compelling mix of art and industry.
Learn more about the Connecting the Arts in Long Island City project.
Authors
Colin Cathcart, Urban Planning Fellow
Nina Rappaport, Journalism Fellow
David Reinfurt, Graphic Design Fellow
Editor
Chelsea Mauldin, (former) Deputy Director, Design Trust for Public Space
Details
Date: May 2006
Size: 7.5" x 11" 
Pages: 96
Binding: Perfect
ISBN: 978-0-977-7175-0-7
Printed by: Print Craft, Inc. 
Design by: Claudia Brandenburg, Language Arts