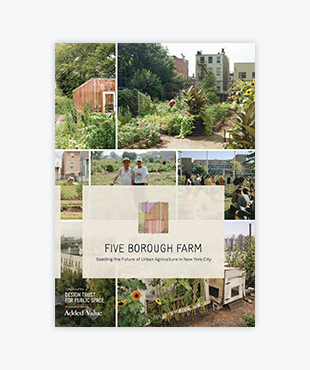 Urban agriculture is booming in New York City, with more than 700 food-producing urban farms and gardens citywide. Five Borough Farm provides the most comprehensive picture of the city's urban agriculture activity to date, recommends initiatives to connect farmers' and gardeners' grassroots efforts to municipal policy, and provides a framework for understanding and measuring how urban agriculture contributes health, social, economic, and ecological benefits to the city.

Through maps, photographs, information graphics and interviews with more than 100 stakeholders, Five Borough Farm illustrates how New York City's community-based farms and gardens create jobs, educate youth, capture stormwater, decrease the city's waste stream, and create safe public spaces. See more about the Five Borough Farm project. 
Authors
Nevin Cohen, Policy Fellow
Kristen Reynolds, Research Collaborator
Rupal Sanghvi, Metrics Fellow
Editor
Jerome Chou, (former) Director of Programs, Design Trust for Public Space
Photography
Rob Stephenson, Photo Urbanism Fellow 
Design
Agnieszka Gasparska, Graphic Design Fellow 
Detail
Date: July 2012
Size: 7.75" x 11"
Pages: 169
Binding: Perfect
ISBN: 978-0-9777175-6-9
Print run: 2,500
Printed by: Print Craft, Inc.