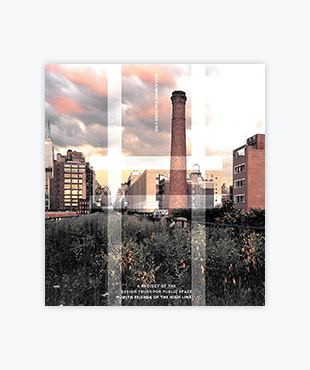 Before the High Line was transformed into New York City's newest open space, it was a derelict piece of infrastructure awaiting demolition. Reclaiming the High Line is the landmark feasibility study that ultimately led to Mayor Bloomberg's decision in 2002 to rescind the outstanding demolition order on the High Line.
Reclaiming the High Line makes a compelling case for converting the elevated railway into open space, and outlines strategies for making this happen. Created in collaboration with Friends of the High Line, the study examines the potential offered by the historic structure to connect communities, generate economic activity, inspire bold design solutions and improve the urban condition through the creation of a 1.45-mile-long, 6.7 acre, elevated public space. 
Learn more about the Reclaiming the High Line project.
Authors
Joshua David, Co-Founder, Friends of the High Line
Karen Hock, (former) Deputy Director, Design Trust for Public Space
Editor
Andrea Woodner, (former) Executive Director, Design Trust for Public Space
Publishers
Design Trust for Public Space
Friends of the High Line
Details
Date: February 2002 
Pages: 92
Design by: Pentagram
Format: PDF file